52 Week Savings Challenge
October 5, 2017 | Posted by: Roar Solutions
Saving money for a down payment to purchase a home is an area of focus for many of our new Clients, for sure. But even for those that already own a home, who wouldn't benefit from just a bit more money saved by the end of the year? I present to you, a way that breaks down savings into weekly bite-sized portions – the 52 week savings challenge:
You start with a contribution of only $2 in your first week and you keep increasing the weekly contribution by $2 until you reach a $52 contribution in week 26. For week 27 you go back to $27 as your weekly contribution and increase the amount by $1 each week ending back at $52 for the week 52 contribution. Total amount saved not including interest: $1729.
Some ideas to consider – is a person in a position where they could double each of these contributions? How about a couple that are saving together to buy their first home - would they both be able to complete this challenge? For first time buyers, what if these contributions were made to an RRSP and generated additional money back on your tax return?
Personally, I like these types of plans because they work off the "normal" (small increments done weekly) as opposed to the "extreme" (waiting for something big to happen). As the Chinese proverb reminds us "the best time to plant a tree was 20 years ago, the second best time is right now".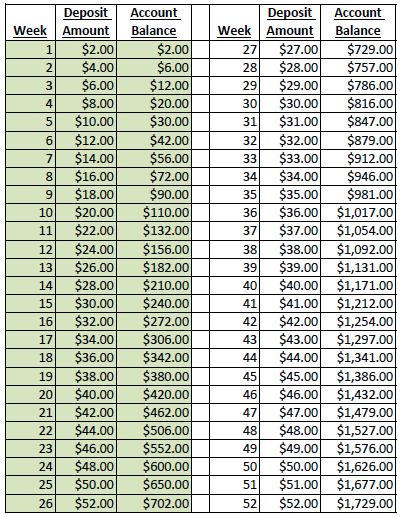 Share This Page On: